Subaru announced this month that Impreza and WRX won Kelley Blue Book's 2018 Best Resale Value in their respective categories for another consecutive year. WRX also placed in the Best Resale Value Top 10 for the third year in a row.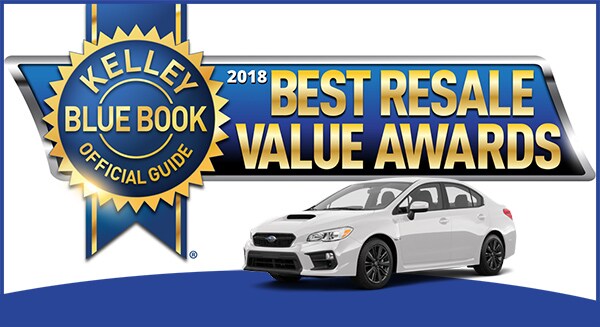 2018 Subaru Impreza
Best Resale Value: Compact Car (five consecutive years)
2018 Subaru WRX
Best Resale Value: Sporty Compact Car (four consecutive years)
Best Resale Value: Top 10 (three consecutive years)
Kelley Blue Book, the leading provider of new and used vehicle valuation and information, recognizes 2018 model-year vehicles for their projected retained value through the initial five-year ownership period. Since depreciation (or loss of value) is typically a car-buyer's primary expense during ownership, these awards, like all the KBB.com new- and used-vehicle information, are designed to help consumers make more informed car-buying decisions.
"It is an honor to receive the 2018 Best Resale Value Award for Impreza and WRX as well as WRX making the Top 10 Resale Value List." said Thomas J. Doll, president and chief operating officer, Subaru of America, Inc. "The fact that both models have consistently won these accolades underscores our commitment to providing customers with vehicles made to the highest standards of safety, reliability and dependability."
Kelley Blue Book's Best Resale Value Awards are in their 16th year and are based on projections from the Kelley Blue Book Official Residual Value Guide. Kelley Blue Book Residual Values are established by experienced automotive analysts that review statistical models built upon millions of transactions. Vehicles that earn the highest five-year residual values, expressed as a percentage of their original Manufacturer's Suggested Retail Price (MSRP), are selected for these prestigious awards. Low-volume vehicles are excluded from award consideration, except in the electric, luxury, sports car, and high-performance categories.
For more information about Kelley Blue Book's Best Resale Value Awards, please visit:
http://www.kbb.com/new-cars/best-resale-value-awards/
Come into Subaru of Glendale and see why our models have fun resale awards year after year!