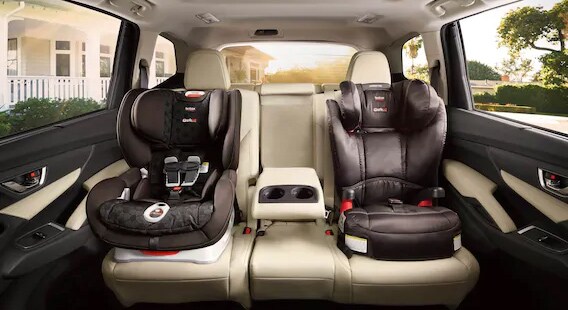 Subaru announced today that the
2022 Subaru Ascent
and the
2022 Subaru Forester
received top marks in the Insurance Institute for Highway Safety's (IIHS) new initiative pushing automakers to improve seat belt reminders.
The new IIHS program assigns a "Good," "Acceptable," "Marginal," or "Poor" rating to seat belt reminders depending on the volume, duration, and timing of the auditory alarm. When the vehicle is moving at least 6 mph and the system detects an unbelted occupant in one of the front-row seating positions or the unfastening of a previously buckled second-row belt, the system must generate an audible signal and visual alert on the dashboard display, overhead panel, or center console to earn a "Good" rating.
Of the 26 small and midsize SUVs tested, only the Ascent and Forester earned the highest possible rating of "Good". Both models feature audible alerts that the human ear perceives as approximately four times louder than the ambient vehicle noise at test speeds. These alerts do not end until the offending belt is fastened, and they meet all the other requirements for both front and rear reminders.
?To learn more about the paramount safety features of Subaru models, visit our
Los Angeles Subaru Dealership
.