BENEFITS OF THE SUBARU BOXER ENGINE


·         Flat layout allows engine output to flow directly into the transmission. This linear flow of power reduces engine components and inefficiencies, resulting in better fuel economy. Subarus are the most fuel efficient AWD vehicles in America, often getting better gas mileage than its FWD competitors.
·         By lowering the center of gravity of the engine, you also lower the center of gravity of the entire vehicle. A lower center of gravity = more responsive - particularly when cornering or doing evasive maneuvers.
  
·         Less vibration. The natural counter punch of the opposite piston cancels out unwanted vibration where inline and v-type engines require additional components to accomplish this.
·         Safety. In the event of a frontal accident, the boxer engine's low center of gravity allows the engine to drop "below" the passenger compartment instead of in it.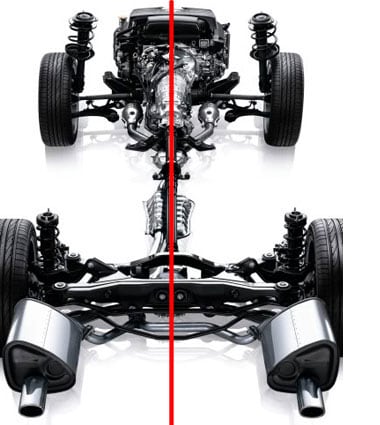 As you can see, the Subaru Boxer Engine is itself a study in symmetry and delivers an impressive amount of power from such a small footprint. Combined with Subaru's Symmetrical All-Wheel Drive, both of these aspects combine to deliver a safer, more stable platform that is perfectly aligned along the center-line of the vehicle resulting in better balance.  BETTER BALANCE = BETTER CONTROL.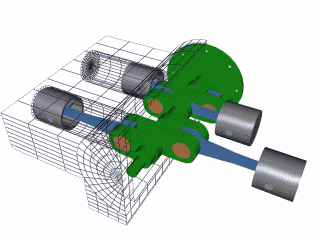 SUMMARY
For over 45 years Subaru has been solely committed to the Subaru Boxer Engine in ALL of their models. The innovative design is part of Subaru's core DNA. Why don't other manufacturers use it? Porsche does in a few of their models including the Boxster, Cayman and 911 models. Porsche states, "This flat, short design results in a very low center of gravity and extremely smooth running."  

For Honda, Toyota and others, it would be nearly impossible to benefit from a boxer engine because their architecture is not designed for the transmission to sit behind the engine. With inline engines the transmission often sits to one side of the engine, thus creating imbalance.    

While you may not be doing evasive maneuvers on a test drive, isn't it nice to know that as an owner you have that capability if you need it. That's the Subaru Boxer Engine!
SUBARU BOXER ENGINE
PERFORMANCE BY MODEL

It seems as though Subaru offers the perfect size boxer engine for each vehicle type including:


2.0 liter 4 cyl DOHC engine w/ 148 hp and 145 lb-ft torque [XV Crosstrek and Impreza]
2.0 liter 4 cyl DOHC engine w/ 200 hp and 151 lb-ft torque [BRZ]
2.5 liter 4 cyl DOHC engine w/ 173 hp and 174 lb-ft torque [Forester, Outback, Legacy]
2.0 liter 4 cyl DOHC turbocharged engine w/ 250 hp and 258 lb-ft torque [Turbo Forester]
2.0 liter 4 cyl DOHC turbocharged engine w/ 268 hp and 258 lb-ft torque [WRX]
2.5 liter 4 cyl DOHC turbocharged engine w/ 305 hp and 290 lb-ft torque [STI]
3.6 liter 6 cyl DOHC engine w/ 256 hp and 247 lb-ft torque [Outback, Legacy all Tribecas]