The 2021 Subaru Love Promise Community Commitment Award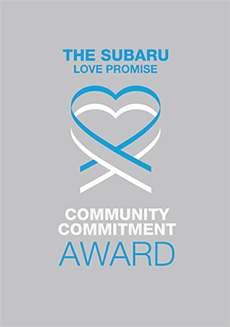 We've been nationally recognized for our dedication to our community and the Subaru Love Promise.
We're honored to receive the 2021 Subaru Love Promise Community Commitment Award. This award nationally recognizes Subaru retailers who are making the world a better place while demonstrating an outstanding commitment to supporting passions and causes in local communities. These efforts are focused in important areas such as the environment, community, health, education, and pets.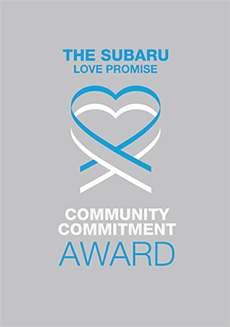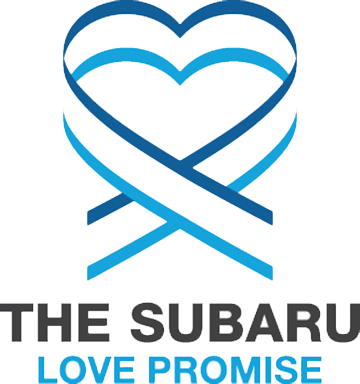 What is the Subaru Love Promise?
Subaru and our retailers believe in making the world a better place and the Subaru Love Promise is our vision of respecting all people. This is our commitment to show love and respect to our customers and to work to make a positive impact in the world.
How is Subaru of Glendale dedicated locally to the Love Promise?
Our Love Promise can be seen in various partnerships with local charities and non-profits. We're grateful for the opportunity, not only to be a part of our community, but to serve it as well.
Love Promise Stories from Subaru of Glendale
Subaru and Subaru of Glendale believe in making a positive impact on the communities in which we live and work. We uphold that belief through our Love Promise Community Commitment. Every month, we select inspiring stories from customers and partners from around our area who strive to support our collective commitment and feature them here
My heart - Jessica A
Coming to Subaru of Glendale for my 1st oil change I didn't know what to expect especially because I was bringing my beautiful Corazon (my dog) with me. I was allowed to wait in the waiting room or outside with him. I chose outside because Corazon is a rescue and prefers the outdoors. I was approached by Sahel and she asked me questions about my dog. Speaking to Sahel she made me aware that Subaru works with the Burbank Shelter and was donating money the month of October during their National Loves Pets program. I shared with her about my experience with a shelter. I rescued my dog 5 years ago and I couldn't be happier. Despite his strong built, he was shy, scared and to himself. Right then and there I knew he needed to come home with me. I named him Corazon because it means heart and he has a beautiful white heart right on his forehead. Sahel gave Corazon a Subaru car toy which he absolutely loved. I appreciate being part of the Subaru family especially knowing they give back to the community and care about animals. Adopt it you can it will bring you joy. Thanks again Subaru of Glendale for making us feel welcomed and for this great picture. Jessica Ayala
---
Thank You for this great partnership - Susan S
We are honored to be partnered with Subaru of Glendale for the second consecutive year through Share the love 2020-2021. Their incredible generous donation has allowed ISCC to support more children with Cancer. Subaru of Glendale and their teams support has been invaluable to ISCC and the local community.
---
AdoptAClassroom.org & Castelar Elementary School - Amy L
Hi Jobe, On behalf of everyone at AdoptAClassroom.org and Castelar Elementary School, we want to extend our gratitude to you and the entire team at Subaru of Glendale. Your generous donation will make a meaningful difference in the lives of so many students in your community. Please find a personal message of thanks from our Executive Director, Ann Pifer, in this short video. This school year, more than ever before, our educators and students need support. This year alone, Subaru and its retailers will benefit more than 114,00 students and teachers with the tools they need for a successful school year. Sincerely, Your Partners at AdoptAClassroom.org
---
Subaru & LA Food Banks partnering to Feed America - Angie B
As part of the Subaru Love Promise Subaru of Glendale #1 Subaru Retailer in the country made time for their VP- Daniel Ershadi and Fixed Ops Director David Sato to join other Executive Managers from surrounding Subaru Retailers to partner with Feed America and donate their time at the Los Angeles Regional Food Bank. On this day, Daniel & David and other executive level managers were able to prepare 1,575 Food Kits that will help to feed over 6,300 families in the local community. This is what the Subaru Love Promise is all about, giving back to the communities in which we live and serve.
---
Making a PET'S DAY at the Burbank Animal Shelter - Lissette R
Earlier in the year Subaru of Glendale reached out to the Burbank Animal Shelter with an exciting proposition. They wanted to help MAKE A PET'S DAY a little brighter. In fact they wanted to help make the days of 31 shelter pets!! For the entire month of October, Subaru of Glendale offered to donate $100 per adoption for 31 dogs and cats. For the entire month, our Shelter Staff celebrated each adoption just a little bit harder knowing that as one pet found their forever home, another still at our Shelter would benefit from Subaru's generosity. Donations from supporters make a HUGE for pets hoping to be adopted, especially those with special needs. With the help of Subaru the Shelter is able to provide special attention and provide medical services the Shelter would otherwise be unable to afford. In October, we were able to adopt out a dog who had arrived to our Shelter with a broken front leg and deformed back leg, needing emergency orthopedic surgery. With donations we were able to provide him the surgeries he needed to mend until he was ready for adoption. With Subaru of Glendale's donation of $3,100, our Shelter will be able to continue to offer second chances to those pets needing just a little bit of extra help. We are forever grateful to Subaru for your support.
---
IHSS and Subaru of Glendale helping our community - Susan S
We are very excited and honored to be partnered with Subaru Of Glendale in supporting our local community. The incredibly generous donation was made possible through Subaru's Annual Share the Love Campaign. We were one of several charities selected by Mr. Jobe Atashi at the Subaru of Glendale, and cannot be more appreciative to him and the entire team at Subaru of Glendale. This donation has had an even greater impact this year for ISCC. Like so many other charities we have been forced to postpone and cancel fundraising events due to the COVID-19 National Pandemic! Subaru of Glendale and their team truly embody the true spirit of partnership and their support has been invaluable to ISCC. This Collaboration allows us to deliver care and support to our Local community in so many ways. This project was initiated to lift the spirits of healthcare workers and our community. Three days a week for the month of April and May we have delivered hot meals to hospitals in Los Angeles. Over 1,920 Meals Delivered…Martin Luther King Jr. Community Hospital LAC-USC County Emergency Medicine, Mask & Hand Sanitizers, 850 N95 Masks have been donated to Children Hospital Los Angeles 400 N95 Mask donated to Nursing Homes in Glendale, 750 Hand Sanitizers donated to Homeless Shelters, and Nursing Homes. Thank you so very much Subaru of Glendale!
---
Subaru Of Glendale fighting hunger & giving hope. - Noemi T
Dear Sahel, on behalf of the Los Angeles Regional Food Bank, I would like to thank you, and the Subaru of Glendale team for your volunteer support which helped pack 1,713 boxes within a few hours. Without volunteers, the Food Bank would not be able to accomplish its mission to mobilize the resources of our community to fight hunger throughout Los Angeles County. The need is great in our community, and more than a million people in LA County are not sure where their next meal is coming from. With your help, the Food Bank is able to leverage every $25 donated to provide 100 meals to hungry children, seniors, and families in L.A. County. Your support makes a tremendous difference and we appreciate it so much. Donations can be submitted at LAFoodBank.org/donate. Noemi Trejo Volunteer Coordinator Meet the awesome volunteers at Subaru Of Glendale: David Soto, Sahel Alemansour, Caremy Esparza, Pamela Frobose.
---
Subaru of Glendale Shares the LOVE! - Monica A
AbilityFirst is deeply grateful for the Subaru of Glendale "Share the Love" campaign. It has been an action-packed partnership! The donations have focused on the children and young adults who attend the AbilityFirst Glendale Center and their families, like Justin and Noah (twins) who have been attending the after-school program in Glendale, since 2013. While they are non-verbal, Justin and Noah have developed their self-esteem because they have learned how to communicate to staff and friends their needs and wants as well as, each other's. When they first joined the program seven years ago, the boys would get frustrated when they struggled to communicate their needs. Today, thanks to the "Share the Love" campaign which underwrote the cost of a variety of technology and supplies and engaging and educational outings, the boys are now enjoying the Wii and iPad for use of communication. Nintendo Switch, using a Karaoke machine, listening to music and they always look forward to outings in the community. Noah and Justin were introvert boys who have gained confidence to the point, that they are now doing roll call with staff support before the fun outings. From visiting the Glendale library and the Los Angeles Zoo, to spending a day at Universal Studios, Justin and Noah, along with all the other after school participants have felt the "Subaru love."
---
Subaru of Glendale Donation to Glendale Adventist - Rachel W
On Monday July 15, the LLS California Southland Chapter had the honor and pleasure of delivering 80 blankets to Glendale Adventist MC Cancer Center as part of the Subaru Loves To Care program. This is the first year that the patients at Glendale Adventist have participated in the Subaru Loves To Care program, and we were met with smiles and open arms. As the blankets warmed their bodies, the personal notes warmed their hearts. LLS is proud to partner with Subaru to spread hope, love, and warmth to those fighting cancer, across the country and right here in Glendale California.
---
Expanding Possibilities - Monica A
AbilityFirst is grateful to Subaru of Glendale and its customers for partnering with us through the "Share the Love" sales event. By supporting AbilityFirst, you stand alongside people with disabilities and their families. Together, we can fulfill our vision of a society that values each individual and provides the opportunity for all people to live full and productive lives: looking beyond disabilities, focusing on capabilities, expanding possibilities. The funds we receive from you will support AbilityFirst programs for children and adults with disabilities like autism, cerebral palsy, Down syndrome, other intellectual/developmental disabilities, and other challenges. The AbilityFirst after school programs in Glendale and East Los Angeles (and four other locations in Los Angeles County) foster independence and community participation for children and youth who have moderate to profound disabilities. It also gives their families vital respite and support and a safe child care option. Program participants are between the ages of 6 and 22 years, and require significant personal care, have minor behavioral challenges, or are too old for traditional child care programs like the YMCA. (Youth with developmental disabilities can remain in high school, and in our program, until they reach the age of 22 years.) The program empowers children and youth to develop and discover their interests and abilities, and supports their personal and social growth. Activities include community outings, sports and recreational activities, shopping and cooking projects, music and dance, swim and water safety lessons, and special holiday events. Participants make friends, have fun, and learn to become more independent. Our staffing ratio of 1:5 allows us to provide full care as necessary, including feeding, changing, toileting, and transferring. Participants enjoy a culturally sensitive and stimulating environment that is also flexible and creative enough to encourage learning and fun. Your generosity will help youth like 17-year-old Caroline, who has been coming to the AbilityFirst since she was 7-1/2 years old. Caroline has two rare conditions that affect her growth and development. She communicates with some sign language, gestures with her head, and a smile that lights up the room! When she first came to AbilityFirst, the time, she used a wheelchair to get around. Today, she enjoys walking in the neighborhood with her friends at the center! Ten years ago, her mother never imagined that Caroline would one day be able to enjoy a movie at the theater, go shopping at the grocery store, help with the laundry, or climb on a the jungle gym in the center's back yard! With support from our staff Caroline has learned to feed herself, make friends, play, and swim. Every year, AbilityFirst programs reach more than 2,000 children and adults with disabilities across greater Los Angeles. Community support and participation has sustained our work for 91 years. Thank you for being our partner and helping hundreds of individuals in our neighborhoods realize their potential and lead full and productive lives! AbilityFirst provides targeted programs that have a common mission: to help people with disabilities realize their full potential throughout their lives. Formed in 1926 to help children affected by the pre-vaccine polio epidemic, AbilityFirst pioneered some of the first community services in California for children with disabilities. Over time, programs expanded to include services for adults as well as children, and to reach individuals with intellectual/developmental disabilities as well as physical challenges. Our programs are changing the lives of more than 2,000 individuals with disabilities and their families every year, and include: after school and full-day summer enrichment; adult life skills development; camping; job preparation, training and placement; AbilityFirst College to Career; social/recreational programming; warm water aquatics; and two group homes.
---