The 2022 Subaru Love Promise Community Commitment Award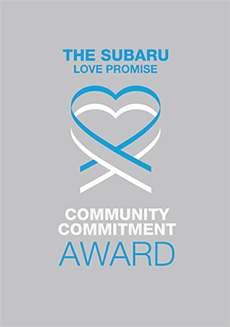 We've been nationally recognized for our dedication to our community and the Subaru Love Promise.
We're honored to receive the 2022 Subaru Love Promise Community Commitment Award. This award nationally recognizes Subaru retailers who are making the world a better place while demonstrating an outstanding commitment to supporting passions and causes in local communities. These efforts are focused in important areas such as the environment, community, health, education, and pets.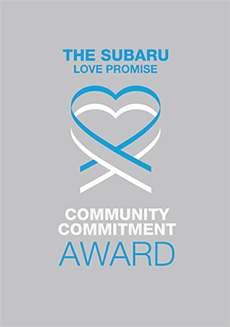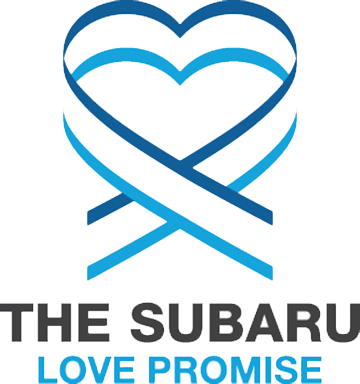 What is the Subaru Love Promise?
Subaru and our retailers believe in making the world a better place and the Subaru Love Promise is our vision of respecting all people. This is our commitment to show love and respect to our customers and to work to make a positive impact in the world.
How is Subaru of Glendale dedicated locally to the Love Promise?
Our Love Promise can be seen in various partnerships with local charities and non-profits. We're grateful for the opportunity, not only to be a part of our community, but to serve it as well.
Love Promise Stories from Subaru of Glendale
Subaru and Subaru of Glendale believe in making a positive impact on the communities in which we live and work. We uphold that belief through our Love Promise Community Commitment. Every month, we select inspiring stories from customers and partners from around our area who strive to support our collective commitment and feature them here
A Million Thanks - Samantha V
Through the amazing nonprofit "A Million Thanks" Subaru of Glendale was able to show it's appreciation to currently-deployed Veterans. Each employee wrote a letter expressing their gratitude for the service of these men and women. For some employees, this was a very personal and meaningful letter because they currently have active-duty family members; other's had family who were once in the military, and have since past. It was an amazing opportunity to remember all the sacrifices that are made by these brave men and women and their families.
---
Every Mother Deserves a Flower - Carissa m
For Mother's Day this year Subaru of Glendale distributed a rose to every woman that came into the dealer. Mothers with their children, expecting mothers, and even dog moms all got a rose and a small goodie bag to show how much Subaru cares and is appreciative of their time spent at Subaru of Glendale. Happy Mother's Day from our Subaru Family, to yours.
---
Planting Ferns At Fern Dell - Anabel V
In celebration of Earth Day Suabaru of Glendale went to help our Friends of Griffith Park again. This time, FOGP hosted an "Earth Day Celebration Planting" at Fern Dell, Griffith park. A multitude of like-minded environmentally conscious friends and companies went out to help dig holes and plant ferns. 2 Ferns were planted by Subaru employees each given the proper names of "FERNando" and "FERNando Jr. "
---
Happy Earth Day! - Stephanie G
Here at Sow Collective we strive to educate our community about sustainability and food-waste reduction. Our community farm allows for those in our community to easily commit to this agenda by providing a local mulch deposit center. Members of our community are welcome to help maintain, harvest and cultivate the farm and even bring in their own food scraps for mulch instead of throwing it away; reducing what we put into the landfills. It was fun to educate members of Subaru of Glendale of our efforts when they came to pay us a visit. It was so nice to learn that a company like Subaru makes it a priority as well to better their community and even take their own steps in-store to make a difference. Big thanks to Alexa, Karla and Samantha from Suabru of Glendale for coming and helping us out.
---
Subaru of Glendale Loves Griffith Park - Samantha V
This past Monday, a few members of the Subaru of Glendale team went down to help beautify our local municipal park, Griffith Park. Griffith Park is one of the largest municipal parks with urban wilderness areas in the United States. Such a beautiful park attracts a multitude of admirers and is even host to many family gatherings and celebrations. Crystal Springs Picnic Area is a hot-spot for these events. Unfortunately that does mean that it can often be littered post-party. Thankfully Friends of Griffith Park hosts events often to help conserve the natural beauty of this beloved picnic area. Subaru of Glendale was there to support the efforts of FOGP and work together to ensure that future generations can also enjoy this wonderful outdoor space.
---
Subaru Did it Again... - Gabriela M
I can't believe it. On behalf of Rob, social services manager, and the whole team here at The Salvation Army Glendale Corps I want to thank Subaru of Glendale for AGAIN bringing us food and treats. Time and again Subaru of Glendale has shown us why they are the #1 dealership in the country (and of our hearts). Many many thanks to management, Jobe and Moe, as well as to the sweet young ladies Sahel and Samantha. It's always a pleasure to work with you guys. Our hearts are full of gratitude and joy for the support we have been shown time and again by the team over at Subaru of Glendale.
---
A Whole Lot of Love - Gabriela M
Last week we were once again visited by the angels of Subaru, Samantha and Sahel, who brought us a bunch of food, goodies and treats for the families and homeless in need. The Salvation Army of Glendale is infinitely grateful to Subaru of Glendale for continuously showing us support and helping us provide to those who need it most. As we all know times are tough and these past few years have shown us that if we come together as a community we can accomplish so much more. Thank you Subaru of Glendale!
---
Got A Whole Lot of Love - Gabriela M
The best part of working with Subaru of Glendale is being able to witness first-hand how much one local company can help impact its community. This week Sahel and Samantha dropped off ton of food supplies, sweets and goodies at our local Glendale Salvation Army branch. Myself, along with Rob and our team work everyday to get food to the families and homeless in need of daily supplies, and the donation from Subaru was a huge sweet surprise. To know that we can count on Subaru of Glendale, its management and lovely volunteers is beyond heart-warming. Now you know the secret to the success of the #1 Subaru Dealership in America... It is their HEART and LOVE for their community. Thank you Sahel And Samantha. :) With Gratitude Gabriela Maldonado The Salvation Army Corps & Community Center Food Pantry Coordinator
---
Subaru Loves Burbank Animal Shelter's Underdogs - Lissette R
Recently, Subaru of Glendale reached out to our Shelter wanting to help make a pet's day. They pledged a donation to our Shelter of $3,100 to help our animals, dogs and cats, have a second chance at finding their forever homes. Most Shelter's operate with very limited resources and sometimes, certain pets need more time to find the family that is right for them. Donations like the one from Subaru allows our Shelter to give pets the extra time they need to get out of the Shelter and into a home. This is especially true for our underdogs. Senior dogs like Austin, three legged dogs like Vader and bonded dogs like Honey and Racer (who also happens to be a tripod), need more from animal welfare advocates to ensure they make it out. Subaru's donation is instrumental to investing in our underdogs and sustaining their physical, social and mental needs while they wait. As a result, enrichment opportunities are secured to maintain our Shelter pets happy and make sure everyone finds a loving home.
---
My heart - Jessica A
Coming to Subaru of Glendale for my 1st oil change I didn't know what to expect especially because I was bringing my beautiful Corazon (my dog) with me. I was allowed to wait in the waiting room or outside with him. I chose outside because Corazon is a rescue and prefers the outdoors. I was approached by Sahel and she asked me questions about my dog. Speaking to Sahel she made me aware that Subaru works with the Burbank Shelter and was donating money the month of October during their National Loves Pets program. I shared with her about my experience with a shelter. I rescued my dog 5 years ago and I couldn't be happier. Despite his strong built, he was shy, scared and to himself. Right then and there I knew he needed to come home with me. I named him Corazon because it means heart and he has a beautiful white heart right on his forehead. Sahel gave Corazon a Subaru car toy which he absolutely loved. I appreciate being part of the Subaru family especially knowing they give back to the community and care about animals. Adopt it you can it will bring you joy. Thanks again Subaru of Glendale for making us feel welcomed and for this great picture. Jessica Ayala
---